1. Right-click on the button above
and bookmark the link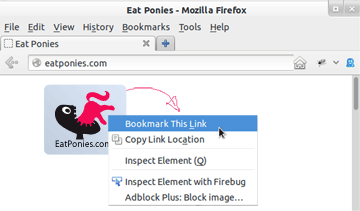 2. Click on the bookmarklet
to draw on any website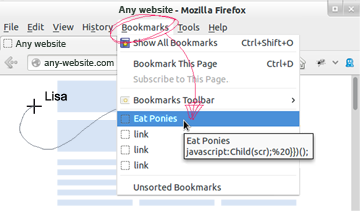 Nobody is drawing at this moment.
About
Eatponies is a website where you can find a bookmarklet to draw over any webpage simultaniously with other people.
If you used to be fan of Multiuser Sketchpad, currently closed, you can now draw here. Main difference, instead of having a blank page, you can go draw over any webpage.
It's something between Goggles and Multiuser Sketchpad.
Warning
There is no control on what people draw and you may come upon offending or shoking content.
Each contributor is morally reponsible for his drawings. EatPonies is not responsible for the content and drawings.
Limitations
Works only in Firefox, Chrome and Epiphany.
You only have a 2000x3000 px surface to draw on.
URLs are limited to 251 characters.
Only 20 people can draw on the same webpage simultaneously.
The eraser lags.
Some sites (like github) do not allow bookmarklets by using Content Security Policy.
Misc
commit: a21884cb2a4d58c557e5f02e2976157833cdc3e4